May 23rd, 2009
Hello all! Thanks to the efforts of ObjectGraph LCC, you can now read Geek Hero offline, wherever you are, and show your friends too! They have made a very nice iPhone / iPod Touch application, that contains some of the early episodes. So far Volume 1 has been released, which contains the first 21 strips. And guess what? It's free! Go grab it from here!
In other news, I have finally found the time to make that t-shirt somebody was wishing for, i.e. the one inspired by this strip. The price is $19.99, and this is really the cheapest I can go. Go check it out here!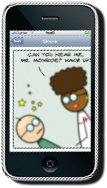 - people liked this quite much.
- instead weren't so impressed.
- even cared to give a comment.